Rachel Besara Co-Edits Book
Rachel Besara Co-Edits Book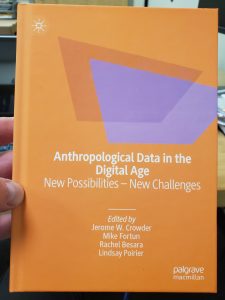 The academic publisher Palgrave-Macmillan recently released a book of contributed chapters about Anthropological Data in the Digital Age, and our own Rachel Besara, Associate Dean of University Libraries, served as one of the four co-editors.
The twelve chapters explore how anthropologists are grappling with new methods to collect, analyze, manage, and present digital data. The authors of the twelve chapters include anthropologists, archaeologists, archivists, ethnologists, and librarians. 
The other co-editors are Jerome W. Crowder, Associate Professor of Preventative Medicine and Community Health at the University of Texas Medical Branch in Galveston, Lindsay Poirier, Assistant Professor of Science and Technology Studies at the University of California, Davis, and Mike Fortun, Associate Professor of Anthropology at the University of California, Irvine. 
Congratulations, Rachel.