Missouri and the Great War Exhibit
Missouri and the Great War Exhibit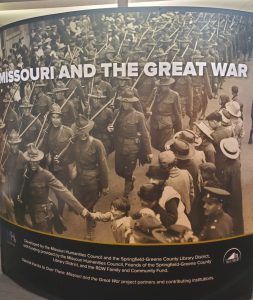 Over There: Missouri & the Great War, a traveling exhibition highlighting a statewide collaborative digitization project to document Missouri's role in World War I, is now on display in Room 107 of Duane G. Meyer Library through Feb. 27, 2020.
The Missouri and the Great War traveling exhibit explores the many facets of World War I history through the perspective of Missouri and Missourians.
Learn about the contributions of Missouri women and African Americans to the war effort. Discover the vital role Missouri horses and mules played in the war despite the military adopting new technologies such as motorized vehicles.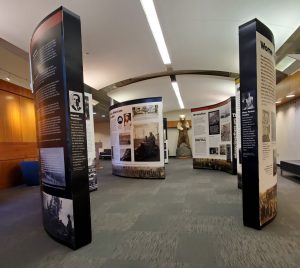 The exhibit also features two touch-screen kiosks, where visitors can explore more content and discover locations of Missouri's World War I monuments. Visitors will also view a new seven-minute documentary featuring footage from the war.   
This exhibition was developed by the Missouri Humanities Council and the Springfield-Greene County Library District, with funding provided by the Missouri Humanities Council, Friends of Springfield-Greene County Library District, and the RDW Family and Community Fund.