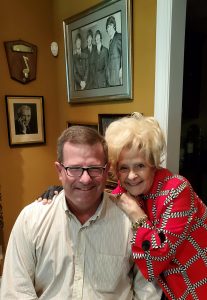 On Thursday, August 22, 2019, Dean Tom Peters interviewed Brenda Lee at her home in Nashville, Tennessee. The interview was recorded and will become part of the growing oral history collection of the MSU Libraries. 
Brenda Lee was "discovered" by Red Foley when he performed on February 23, 1956 at the Bell Auditorium in Augusta, Georgia, where Brenda and her family were living. Red invited her to come to Springfield, Missouri and perform on the Ozark Jubilee. Her first nationwide appearance occurred on the live television broadcast of the Ozark Jubilee on March 31, 1956 from the stage of the Jewell Theater. Ms. Lee remembers being very impressed by all of the placename posters that audience members held up. 
Lee and her husband, Ronnie Shacklett, have been married since the early 1960s. She is a member of both the Country Music Hall of Fame and the Rock and Roll Hall of Fame, the only female to be so honored.
Ms. Lee also gave us permission to digitize a rare demo tape that her stepfather sent to Bryan Bisney at the Ozark Jubilee. Mr. Bisney saved the demo tape all these years, and his son John allowed the MSU Libraries to digitize it along with the rest of the materials in the important Bryan T. E. Bisney Ozark Jubilee Collection.