1959 Shepherd of the Hills Film Digitized
1959 Shepherd of the Hills Film Digitized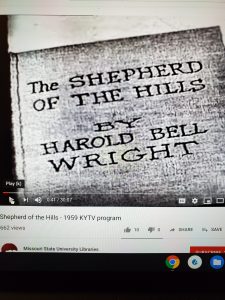 KYTV and the MSU Libraries have collaborated to digitize a 30-minute 1959 early television program about the Shepherd of the Hill drama. Although the quality of the recording has declined over the 60 years since it was produced and won awards, in less than a week over 660 people have viewed the digitized version. 
Here is how KY3 describes the genesis of the program: "KYTV purchased one of the nation's first mobile video tape units in March 1959. This new equipment allowed us to travel throughout our viewing area to bring taped programming to the Ozarks from our own backyard. We videotaped the dedication of Table Rock Dam in 1959 and soon thereafter produced Harold Bell Wright's well known and beloved Shepherd of The Hills on location at the Shepherd of The Hills Farm in Branson, MO. We were awarded the TV/Radio Mirror award for most original program in the Midwest for that production." 
The obituary for Fred Rains also noted this important effort: "[Larry] Wood and Rains also worked together on the first taping of "The Shepherd of the Hills" play in Branson in 1959. The production won the station a prestigious Radio & Television Mirror award (Sain 2010)."
Sain, Cliff. 2010. "Ex-KYTV Director Rains Dies." Springfield News-Leader, Monday, October 11, 2010, p. 10.