Paige Harp is Our New Coordinator of IG12
Paige Harp is Our New Coordinator of IG12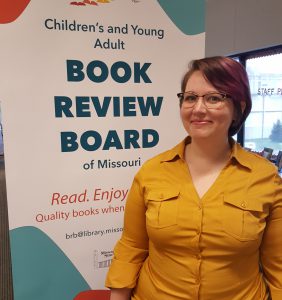 Paige Harp has accepted an offer from the MSU Libraries to serve as our Coordinator of Infant Through Grade 12 Resources. May 16th will be her first day in this new role at the MSU Libraries.
This is a new position that combines the responsibilities of Emily Furtak (retired) and Marklyn Cotter (who will be retiring in December). IG12 and BRB (the Book Review Board) team members are excited to have Paige on board!
In November 2018 Paige began working for the MSU Libraries as a Library Associate III. Paige has a BA in English literature from MSU, and her MLIS is from the University of Missouri. Prior to working at the MSU Libraries, Paige served as a Youth Services Associate at the Library Station for the Springfield-Greene County Library District.