Nancy Holmer to Retire
Nancy Holmer to Retire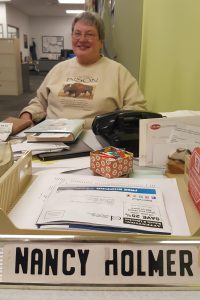 Nancy Holmer, Library Associate II in the Resource Management and Discovery area of the MSU Libraries, has announced her plan to retire at the end of July 2019, after nearly 39 years of service to the University Libraries and its users.
Nancy began working for SMSU on September 2, 1980. Two years prior to that, Nancy had begun working at the Brentwood Branch of the public library as a circulation clerk.
A retirement reception is being planned to be held down in the common area of Resource Management and Discovery on the Lower Level of Duane G. Meyer Library. Details about her retirement reception will be announced soon.
Congratulations, Nancy! We all wish you a fantastic retirement.