Camp Crowder Exhibit Highlights One Facet of the Pete and Sara Morgan Collection
Camp Crowder Exhibit Highlights One Facet of the Pete and Sara Morgan Collection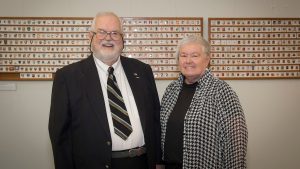 The newest exhibit of material from the Morgan Military Insignia Collection features training materials and souvenirs from Camp Crowder. Pete Morgan credits time spent at Camp Crowder as a child, where his father worked during World War II, as the starting point for his life-long interest in military insignia.
Located in Newton and McDonald counties in southwest Missouri, Camp Crowder was developed in 1941 as the United States was rapidly expanding its armed forces. Named for Major General Enoch Crowder, a Missouri native and lawyer who administered the Selective Service system during World War I, the camp eventually encompassed roughly 70 square miles and over 1,000 buildings. In 1943 a prisoner of war (POW) camp designed to house 1,000 men was built there. A second identical POW camp was added in 1945.
Camp Crowder was primarily an Army Signal Corps training center. Troops trained in areas such as use and repair of radios, telephone systems, message center operations, radar, aircraft spotting and plotting, and teletype operations. Some even trained as pigeoneers – someone who works with carrier pigeons.
A chapter about Camp Crowder, written by Mike O'Brien, a retired newspaper columnist, will be included in the "TechnOzarks" anthology forthcoming this fall from the Ozarks Studies Institute, an initiative of the MSU Libraries.