Special Collections and E-Resource Spotlight: Umbra Search
Special Collections and E-Resource Spotlight: Umbra Search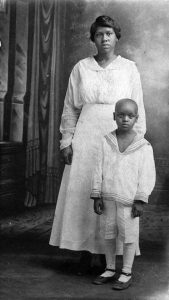 Material digitized from the Katherine G. Lederer Ozarks African American History Collection (M 35) and included in Missouri State University's Digital Collections is also accessible through the Umbra Search portal, which aggregates digitized material related to African American history from across the country.
Umbra Search African American History makes African American history more broadly accessible through a freely available widget and search tool, umbrasearch.org; digitization of African American materials across University of Minnesota collections; and support of students, educators, artists, and the public through residencies, workshops, and events locally and around the country. umbrasearch.org brings together hundreds of thousands digitized materials from over 1,000 libraries and archives across the country. Umbra Search celebrates the vital efforts of the individuals and institutions that have helped to preserve and make accessible African American history and culture, and we pay homage to the Umbra Society of the early 1960s, a renegade group of Black writers and poets who helped create the Black Arts Movement.
For more information, contact MSU's Special Collections and Archives or Umbra Search.