Special Collections Spotlight: President's Office Publications
Special Collections Spotlight: President's Office Publications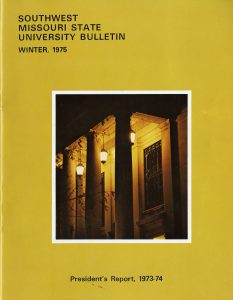 The President's Office Publications (RG 1/1/2) in Meyer Library's Special Collections and Archives contains several different regular publications produced by Missouri State University's President's Office, including President's Report (1963-1994), SMSU Focus (1993-2005), and Friday Focus (2005-2010).
President's Report summarized information about each school year, such as events, achievements, and financial information. Some issues also covered information about "long-range plans."*
Friday Focus was an occasional publication from the Office of the President.  First published as SMSU Focusin 1993, the brief (2-4 page) publication contained information from the university president for the campus community. While the masthead for SMSU Focus described the publication as a monthly, it was not consistently published. In 2005 the format changed to online-only* and the name became Friday Focus.
These publications, along with several other MSU publications, can be found online in our Digital Collections.  (Note that some of the President's Reports were part of the Bulletin series or Annual Reports; see the finding aid for a list.)
(*Long-Range Plans (RG 1/4/1) and President's Blogs (RG 1/1/5) are separate record groups from the President's Office Publications (RG 1/1/2); contact Special Collections and Archives for more information about the material in these collections.)