New, Improved Study Room Booking Interface
New, Improved Study Room Booking Interface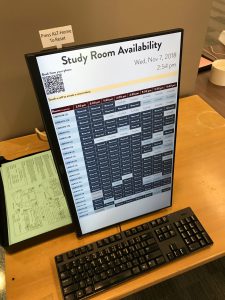 This past Monday morning, November 5th, Library Information Technology (LIT) rolled out a new-and-improved self-service system for booking group study rooms in Duane G. Meyer Library.
The system is composed of two main components: a touchscreen-based walk-up kiosk (pictured) and a new web interface for booking from your computer or mobile device.
While similar in appearance to the read-only screen previously located across from the elevators on the Second Level, this new walk-up kiosk interface, which can be found near the new Living Room area on the First Level (across from the Circulation Desk), has a touchscreen that allows you to select a room and/or time slot and book your reservation all in one place! All you need is a BearPass login.
This has been a highly-requested feature, and LIT staff (particularly October Library Employee of the Month, Mark Arnold) have worked hard to make it a reality.