Dr. John's Students Contribute to the Success of the BRB
Dr. John's Students Contribute to the Success of the BRB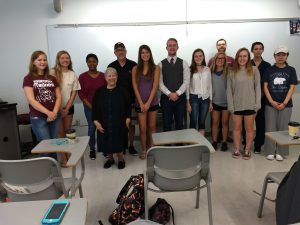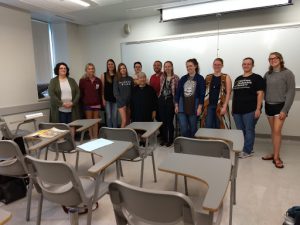 The Children's and Young Adult Book Review Board of Missouri (BRB), supported by the MSU Libraries, has enjoyed collaborating with MSU students over the years. One person who has facilitated this collaboration is Dr. Judith John.
Dr. John is an incredibly good friend to the BRB. Not only has she reviewed for the BRB since its inception, she has also allowed the BRB team to present reviewing workshops to her Children's and Young Adult Literature classes for many years.
Her students are lovely! Exceptional reviews are consistently submitted from all of her classes. This fall, Dr. Johns had her ENG 338 (left picture) and ENG 534-634 (right picture) students review for the BRB. Their help is greatly appreciated, and we're looking forward to reading their completed reviews!
If you want to become a beloved reviewer, contact us for more information, or visit us in Meyer Library room 215.
Director: Cherri Jones, cherrijones@missouristate.edu
Coordinator: Marklyn Cotter, marklyncotter@missouristate.edu
Graduate assistant: Abby Phillips, abby24@live.missouristate.edu
Follow us!
Twitter: @BRBofMissouri
Instagram: @brbofmissouri
Facebook: facebook.com/bookreviewboard