Special Collection Spotlight: Lena Wills Collection
Special Collection Spotlight: Lena Wills Collection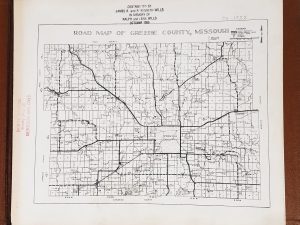 The Lena Wills Collection (M 2) in Special Collections and Archives contains the research material from a local genealogist Lena Wills.  Wills was best known in Springfield for "Ozarks Genealogy," the column she wrote from 1969 until her death in 1986 for the Springfield News-Leader.  An avid genealogist, she taught classes in the subject at Central Bible College and at other locations.
Wills was born in 1902 and raised in Gerster in St. Clair County.  As a child, her family lived in the back of a store and she got to know the customers, which cultivated her interest in people and families.  When she later became involved in genealogy, she was surprised to discover that some of the "uncles" and "aunts" she had known growing up were actually related to her.  In 1922, she came to Southwest Missouri State Teacher's College (now Missouri State University).  She did not finish her degree at that time, however, and married Ralph Wills in 1924.
After her children were grown (Jim graduated MSU in 1951 and R. Kenneth was attending) she returned to school in 1953 and graduated with honors in 1957.  In 1969, she wrote her first genealogy column for the News-Leader.  She studied other genealogy columns in preparation for the task, and decided that her column would provide more than just names and dates when possible.
She began building an extensive library of genealogy materials.  She also recorded family trees, indexed several funeral home and other types of records, and even indexed her own collection.
This collection is comprised of books, periodicals, subject files, maps, and card indexes, as well as manuscripts and correspondence related mainly to her genealogy column. The Missouri State University Libraries acquired this collection in November of 1986, following Mrs. Wills' death.
For more information, see the collection's finding aid or contact Special Collections and Archives.