Lindsey Taggart Joins the MSU Libraries Team
Lindsey Taggart Joins the MSU Libraries Team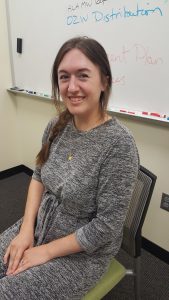 Bright and early on Monday morning, July 9, 2018 Lindsey Taggart began working at the Missouri State University Libraries. She is serving as our Director of Resource Management and Discovery, a new position, and a 12-month, tenure-track assistant professor.
Prior to coming to MSU, Lindsey served as the Assessment and Collection Development Librarian and Assistant Professor at Pittsburg State University in Pittsburg, Kansas. She has worked previously at Crowder College in Neosho, Missouri, at the Forest Institute of Professional Psychology in Springfield, Missouri, and at the Christian County Library in Ozark, Missouri. Her MLIS is from the University of Missouri in Columbia, and her BA, in English Literature and Art (with Honors) is from Grinnell College in Grinnell, Iowa.
In 2014 Lindsey was named an Emerging Leader by the American Library Association. She already has several publications, presentations, and funded grants to her credit. Her professional service includes committee membership, peer reviewer, co-editor, and volunteer to various state and national professional groups and publications.