Guy Mace Gives Non-Western Art to MSU
Guy Mace Gives Non-Western Art to MSU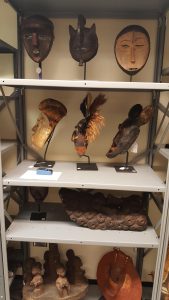 Springfield businessman and philanthropist Guy Mace recently donated a remarkable collection of art and artifacts to Missouri State University. The gift was made to the Department of Art and Design. The MSU Libraries will house, curate, and display the items in the collection.
The collection includes African masks, figural wooden staffs and ceremonial knives and spears from the nineteenth and twentieth centuries along with Native American, Asian, and Oceanic masks and headdresses.
Dr. Billie Follensbee, professor in the Department of Art and Design and curator of the art history collections, said the gift's impact is almost invaluable. "This builds on Mr. Mace's past generosity and his dedication to the study of African and Oceanic art," Follensbee said. "We believe it is the largest donation of museum-quality art and artifacts in Missouri State's history."
Missouri State President Clifton Smart III recognized the donation's significance for both student research activities and the university's public affairs mission. "We're honored that Mr. Mace entrusted us with this collection and excited about the opportunities it provides," Smart said. "It is part of our commitment to the cultural life and understanding of our community."
A preliminary exhibit of the new collection is being planned for the late fall or early spring.