What Do UNESCO, Slovenia, Berlin, and the Ozarks Have in Common?
What Do UNESCO, Slovenia, Berlin, and the Ozarks Have in Common?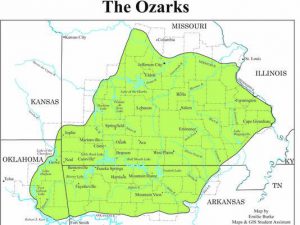 A researcher and author from Arkansas recently contacted us with a request to use the map of the Ozarks region created by the MSU Maps and GIS area in an upcoming international publication:
I am currently writing an article for an edited series entitled Flower World: Music Archaeology of the Americas Vol. 6, edited by Mark Howell and Matthias Stockli, published by Ekho Verlag, Berlin. The title of the article is "A Survey and Analysis of Sound-Making Artifacts from Bluff Shelter Sites in the Ozark Plateau Region of the Central United States." The article is based on a paper I presented last August at a symposium in Ljubljana, Slovenia sponsored by The International Council for Traditional Music Study Group on Music Archaeology, a UNESCO affiliated organization. Most of the audience for this publication will be European and Latin American (some of the articles are published in Spanish). For this reason I want to provide them with a good map of the Ozarks and I would like to ask your permission to use the map which appears on the web site of the Ozark Studies Institute to accompany the article.