Big Read Event: John Barry on The Great Influenza
Big Read Event: John Barry on The Great Influenza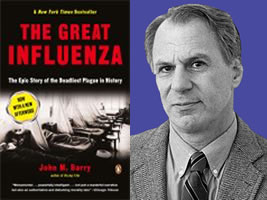 The Big Read is a collaborative project led by the Springfield-Greene County Library District, with the MSU Libraries as a partner organization. This year the Big Read is focused on pandemics past — and possibly in the future. On Thursday, April 19th beginning at 7:00 p.m. in the auditorium of the Library Center on South Campbell, John M. Barry, author of The Great Influenza: The Story of the Greatest Pandemic in History, will be in town for an author talk and book signing.
Station Eleven, a novel about a possible future pandemic that almost brings human civilization to a halt, another title in this year's Big Read program, makes us ponder, "What if?" But John M. Barry's The Great Influenza explores what did happen when, at the height of WWI, history's most lethal influenza virus erupted in an Army camp in Kansas, moved east with American troops, then exploded, killing as many as 100 million people worldwide.
Barry's book in 2004 prompted the National Academies of Science to ask him to give a keynote speech at an international scientific meeting on pandemic influenza. In the years since, he has advised national security entities, the George W. Bush and Obama White Houses, state governments, and the private sector on influenza preparedness and response.
Barry is a prize-winning and New York Times best-selling author whose books have won multiple awards. The National Academies of Science named The Great Influenza the outstanding book on science or medicine for 2004.