Big Read Event in Meyer Library on April 3, 2018
Big Read Event in Meyer Library on April 3, 2018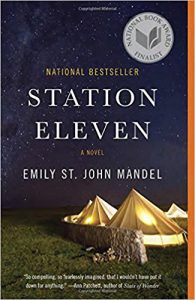 Date: Tuesday, April 3, 2018, at 7:00 pm in Meyer Library Room 101
Title: "Mandel Meets the Bard: King Lear and the Shakespearean Apocalypse"
Description: Emily St. John Mandel's science fiction novel, Station Eleven, a finalist for the 2014 National Book Award, "begins" where King Lear "ends." While a knowledge of Shakespeare can enrich our reading of Mandel's novel, we might reverse their roles and ask, "How can Mandel help us read Lear?" By a continuous process of reinvention, Shakespeare remains relevant to contemporary culture: such is the thesis of this lecture.
Presenter: James S. Baumlin is Distinguished Professor of English at Missouri State University, where he teaches renaissance literature and the history of rhetoric. His recent book is Theologies of Language in English Renaissance Literature: Reading Shakespeare, Donne, and Milton (Lanham MD: Lexington, 2012).
The MSU Libraries, facilitated by Bill Edgar, is collaborating with the Springfield-Greene County Library District on this year's cluster of Big Read: One Book One Community events. The Big Read is a project of the National Endowment for the Arts in partnership with Arts Midwest; with additional support from Friends of the Library.