Special Collections Spotlight: David A. Clouser's Diaries
Special Collections Spotlight: David A. Clouser's Diaries
The David A. Clouser Diaries (M 11) in Meyer Library's Special Collections and Archives document the day to day lives of David A. and May Clouser of Lamar, Missouri, from the early 1900s to the mid-1940s. David was born in the late 1850s to early 1860s, and May was born in 1874.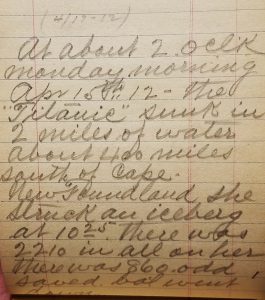 David appears to have been a handyman of sorts, doing odd jobs around town for various townspeople when he was not working at a local mill.  May appears to have been a housewife.  They were both church-goers with church mentioned almost every Sunday and whether they attended that Sunday or not. David makes references throughout the first four diaries to past events, such as saying, "One year ago today, we left MO…for this state…" or, "Sixteen years ago, we commenced to build the Halleck Mill."  Mr. Clouser also makes mention of world events such as the Titanic sinking and Charles Lindbergh's flight across the Atlantic Ocean.  He also makes note of various things going on in Lamar, such as what street was being paved at the time and who was building a house.  The first diary appears to have been written in, or around, Indianapolis, Indiana.  The remaining diaries were likely all written in Lamar.
For more information, contact Special Collections and Archives.