Library Interdisciplinary Space Project
Library Interdisciplinary Space Project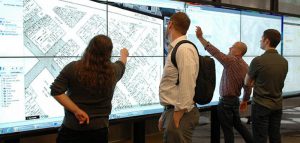 The MSU Libraries has begun a multi-year process to develop a new space and service that will enable members of the MSU higher learning community to use cutting edge technologies to fuel interdisciplinary teaching, learning, research, and service.
Two years ago the Provost provided funding for a 3D printer and scanner.  Jan Johnson and other library faculty and staff members began exploring other newer technologies.  Last year, an HTC Vive virtual reality headset was introduced. This summer, the library purchased a Microsoft Hololens, a computer for AR/VR (augmented reality and virtual reality) development, and is working with Professor Anthony Clark from the Computer Science department to bring robots to the library.  Summer Innovation Grants have helped fund this early work.
Earlier in 2017 Jan met with Professor Clark about robots and robotics at MSU. He wondered why MSU didn't have more interdisciplinary opportunities for students. His question got Jan wondering and investigating the idea of interdisciplinarity and emerging technologies. After examining what other universities are doing, she developed a high level concept and discussed it with Tom Peters, Dean of Library Services.  The idea was introduced to the library faculty and unit heads who saw the value in developing the space.  With Dean Peters' approval, Jan did additional investigation, including a site visit in June to Georgia State University Libraries to look at their data visualization space.
What's the status of the MSU project?
We

a

re

a

ssessing the best

a

pproach to providing interdisciplinary, tech-rich collaboration spaces to find the best-fit

a

pproach for MSU.
We

a

re working with Janene Proctor, Research

A

dministration Specialist in the Office of Research 

A

dministration, and with the MSU Foundation to identify possible funding sources.
We

a

re engaging members of the MSU community to be part of the design process from the start.

A

working group is being formed.
Why is this project being undertaken?
Interdisciplinary research/

a

ctive learning

a

llows students

a

nd faculty from intersecting disciplines to look

a

t data sets from new perspectives
increases workplace readiness by exposing students to language

a

nd ideas of other disciplines
increases learning through the use of concept bases instruction
reinforces learning through

a

pplication of ideas to current issues

a

nd real life problems
enhances critical thinking skills

Disruptive technological products

a

re being developed

a

nd will be part of our lives in the very near future.

Students who

a

ttend schools with large funding

a

re introduced to new technology during their

a

cademic career.  That

a

ccess gives them 

a

dvantages in the job market.
Disruptive technology introduces

a

dditional layers of complexity to how society functions and advances.  Many questions

a

bout the impact of the technology need to be

a

sked

a

nd

a

nswered.

Libraries

a

re in

a

n excellent position to provide:

Research

a

ssistance
Transliteracy instruction
Neutral spaces that are conducive to these types of activities
Shared, effective, and efficient use of limited resources
What will the space feature? 
Neutral space for faculty to meet in order to:

develop cross-discipline curricula
build relationships

a

mong departments, which will dovetail with the liaison program being launched by the MSU Libraries this fall
hold open discussions

Maker/group research/multi-media space

Provide

a

ccess to emerging technologies in

a

maker/research space
Bring multiple disciplines together to discuss the larger social questions

a

ssociated with new technologies (pro

a

nd con)
Space for intra/interdisciplinary group work
Multimedia space
Data visualization wall

Scholar Studio

Experts in one or more

a

reas present thoughts on current topics of interest
Panel discussions
Student presentations
Open discussions
We see this project as a game changer for the MSU Libraries and MSU.  We're developing the space and services from the perspective of the Public Affairs Mission of MSU, by providing a space where people can become more informed about the changing social and technological landscape, look at current issues, acknowledge and discuss gnarly questions, and develop multi-disciplinary solutions to complex problems. This will be an open, collaborative, respectful space where new ideas and methods can sprout and grow.  It offers opportunities for professors to develop different instructional methods, enables students to work in cross-disciplinary teams, and provides deeper, active learning in areas that impact our lives in the 21st century.