Shumate Collection Receives Additional Material
Shumate Collection Receives Additional Material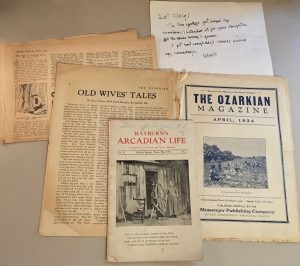 Just yesterday, the day before the COVID-19 pandemic stay-at-home order went into effect, Special Collections and Archives received a great addition to the Fern Nance Shumate Collection.  
Shumate is known as one of the first female journalists in Missouri in the 1920s, writing for the Springfield Press until it merged with the Springfield News Leader. While writing for the paper, she interviewed Amelia Earhart, Will Rogers, and Jack Dempsey. She began to write freelance pieces for the Kansas City Star and the St. Louis Post Dispatch, but also wrote under pseudonyms Nancy Nance, Nancy Clemens, and the masculine name Anthony Gish.  
Shumate later met Vance Randolph in Galena, Missouri, and the two became friends. It is important to note that Randolph never called Fern by her given name, but always referred to her as Nancy. 
Randolph introduced Shumate to publishers and other writers and encouraged Shumate to write novels. Two novels were written under Shumate's pseudonym Nancy Clemens, along with another publication written in collaboration with Randolph. The two also collaborated on many published academic articles. Articles in The Ozarks Mountaineer on her recollections of Randolph began a second writing career for Shumate after his death in 1978.  
In 1938, Fern joined the family business and became a floral designer at the Nance Greenhouse. She married Roland Shumate in 1947 (Randolph was a witness), and the couple had one daughter named Nancy. Nancy graduated from Southwest Missouri State in 1972 and worked for the Missouri Department of Social Services for 34 years.  
It is because of Nancy's friendship with author Dr. Louise Jackson that we have this collection that documents not only Fern, but Nancy and the whole Shumate family. After Nancy's death, Dr. Jackson donated photographs, copies of the novels, Fern's writings and her mother's writings, family documents, and oral histories with Fern (conducted by Gordon McCann) to the Archives.  
This most recent donation includes additional items about the Shumate's daughter Nancy, letters to "Nancy" from Vance Randolph, and more examples of Fern's freelance writings in smaller publications such as The Ozarkian Magazine, and unexpected publications such as Rayburn's Arcadian Life: A Journal of Folklore and Rural Idealism (published in Sulphur Springs, Texas). 
Dr. Jackson also participated in an oral history with archivist Tracie Gieselman-France earlier this month. She spoke about her friendship with Nancy Shumate, her interest in having the family's history archived, and her own life and adventures as a teacher, professor, and an author of books set in the Ozarks. 
The collection is currently in processing, but will be available to researchers when our regular hours resume.