Meyer Library Closed for 30 Days
Meyer Library Closed for 30 Days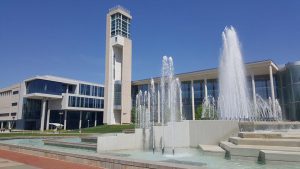 On Tuesday, March 24, 2020, the City of Springfield and Greene County issued a "Stay at Home" Order, "requiring Springfieldians to stay at home except for "essential activities" as our community continues working to slow the spread of COVID-19." This order took effect at 12:01 a.m. today, Thursday, March 26, 2020 and is scheduled to last 30 days. 
As a result, after consulting with President Smart, Provost Einhellig, all of the other deans, and the Portfolio Managers here in the Libraries, Dean Peters decided, with regret, but driven by necessity and an abiding interest in the health and safety of all, to close the MSU Libraries as physical libraries at 6:00 p.m. yesterday. 
Current plans are to keep the physical libraries closed at least through Friday, April 24, 2020. Of course, all decisions and timelines are subject to review and revision, as this unprecedented global pandemic continues to unfold.
Although nearly the entire Springfield campus of Missouri State University will be closed, the University itself remains open, and classes will resume, either online or via alternative means, next Monday. 
The online collections and services of the MSU Libraries remain open and accessible, too. To learn more about these rich online information resources and services, please visit the Libraries' website.