"I Love Where I Live": An Ozarks Photo-Exhibition by Jacek Fraczak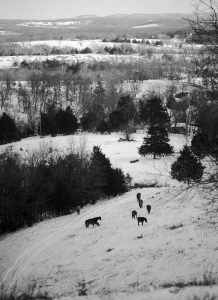 Beginning April 1, the Duane G. Meyer Library will host a photography exhibition by Polish-born artist, Jacek Fraczak. Featuring the artist's landscape photographs of Southern Missouri and Northern Arkansas, the exhibition lends visual support to the 2018 Public Affairs theme of sustainability.
In program notes to the exhibition, Fraczak writes, "In August 2017, my wife, daughters, and I became U.S. citizens. God bless America! This photo-album is a testament of my dedication to this land—to the pastoral beauty of its landscape and to the truth of its architectural landmarks, which contain the individual life-stories that may be seen through them. And it is my artistic homage to a place that, today, I can truly call my home."
"I Love Where I Live" will be on display April 1 through May 18, 2018, and will be open to the public.  The exhibit will be in the newly refurbished Room 107 and can be viewed during regular library hours.  It is underwritten by the Corbett Law Firm Literacy Outreach, which has partnered with Missouri State University's Ozarks Studies Institute in bringing the exhibition to campus.  For more information, contact Anne Baker at 417.836.4299 or AnneBaker@missouristate.edu.